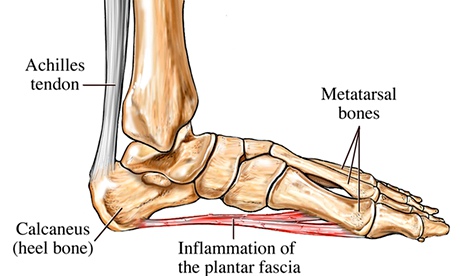 Overview
Plantar fasciitis is the most common cause of pain on the bottom of the heel. Approximately 2 million patients are treated for this condition every year. Plantar fasciitis occurs when the strong band of tissue that supports the arch of your foot becomes irritated and inflamed. The plantar fascia is a long, thin ligament that lies directly beneath the skin on the bottom of your foot. It connects the heel to the front of your foot, and supports the arch of your foot.
Causes
The cause of plantar fasciitis is often unclear and may be multifactorial. Because of the high incidence in runners, it is best postulated to be caused by repetitive microtrauma. Possible risk factors include obesity, occupations requiring prolonged standing and weight-bearing, and heel spurs. Other risk factors may be broadly classified as either extrinsic (training errors and equipment) or intrinsic (functional, structural, or degenerative). Training errors are among the major causes of plantar fasciitis. Athletes usually have a history of an increase in distance, intensity, or duration of activity. The addition of speed workouts, plyometrics, and hill workouts are particularly high-risk behaviors for the development of plantar fasciitis. Running indoors on poorly cushioned surfaces is also a risk factor. Appropriate equipment is important. Athletes and others who spend prolonged time on their feet should wear an appropriate shoe type for their foot type and activity. Athletic shoes rapidly lose cushioning properties. Athletes who use shoe-sole repair materials are especially at risk if they do not change shoes often. Athletes who train in lightweight and minimally cushioned shoes (instead of heavier training flats) are also at higher risk of developing plantar fasciitis.
Symptoms
The classic sign of plantar fasciitis is that the worst pain occurs with the first few steps in the morning, but not every patient will have this symptom. Patients often notice pain at the beginning of activity that lessens or resolves as they warm up. The pain may also occur with prolonged standing and is sometimes accompanied by stiffness. In more severe cases, the pain will also worsen toward the end of the day.
Diagnosis
Your doctor will check your feet and watch you stand and walk. He or she will also ask questions about your past health, including what illnesses or injuries you have had. Your symptoms, such as where the pain is and what time of day your foot hurts most. How active you are and what types of physical activity you do. Your doctor may take an X-ray of your foot if he or she suspects a problem with the bones of your foot, such as a stress fracture.
Non Surgical Treatment
Although there is no single cure, many treatments can be used to ease pain. In order to treat it effectively for the long-term, the cause of the condition must be corrected as well as treating the symptoms. Rest until it is not painful. It can be very difficult to rest the foot as most people will be on their feet during the day for work. A plantar fasciitis taping technique can help support the foot relieving pain and helping it rest. Plantar fasciitis tapingApply ice or cold therapy to help reduce pain and inflammation. Cold therapy can be applied for 10 minutes every hour if the injury is particularly painful for the first 24 to 48 hours. This can be reduced to 3 times a day as symptoms ease. Plantar fasciitis exercises can be done if pain allows, in particular stretching the fascia is an important part of treatment and prevention. Simply reducing pain and inflammation alone is unlikely to result in long term recovery. The fascia tightens up making the origin at the heel more susceptible to stress. Plantar fasciitis night splint. Plantar fasciitis night splint is an excellent product which is worn overnight and gently stretches the calf muscles preventing it from tightening up overnight.
Surgical Treatment
Surgery is rarely needed in the treatment of plantar fasciitis. The vast majority of patients diagnosed with plantar fasciitis will recover given ample time. With some basic treatment steps, well over 90% of patients will achieve full recovery from symptoms of plantar fasciitis within one year of the onset of treatment. Simple treatments include anti-inflammatory medication, shoe inserts, and stretching exercises. In patients where a good effort with these treatments fails to provide adequate relief, some more aggressive treatments may be attempted. These include cortisone injections or extracorporeal shock wave treatments.
Prevention
While there are no sure ways to prevent plantar fasciitis, these prevention tips may be helpful. Keep your weight under reasonable control. Wear comfortable, supportive shoes. Use care when starting or intensifying exercise programmes.